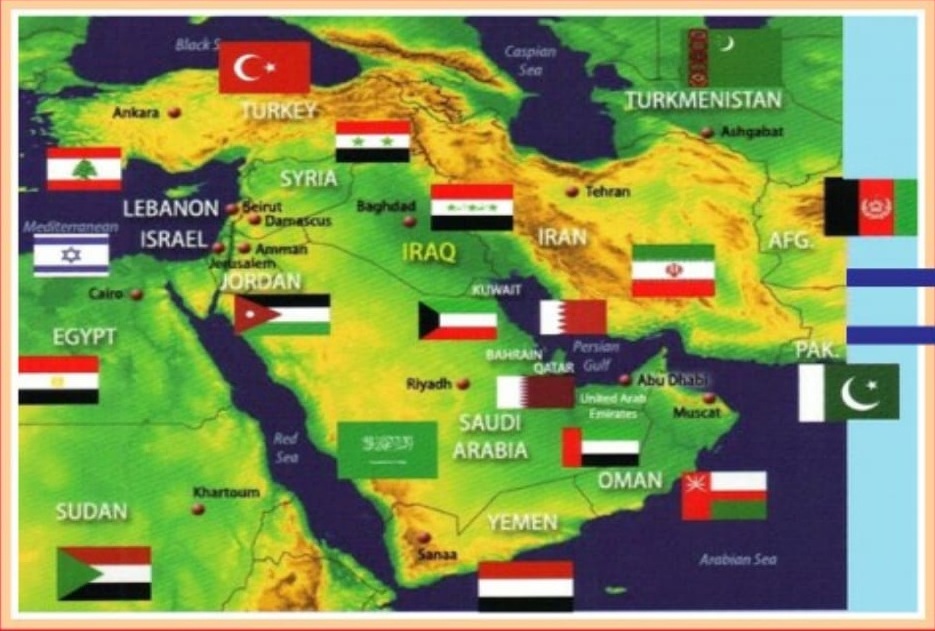 One Day International Conference on "Pakistan's "New Middle East Policy Design": Multilateral Dialogue & Way Forward"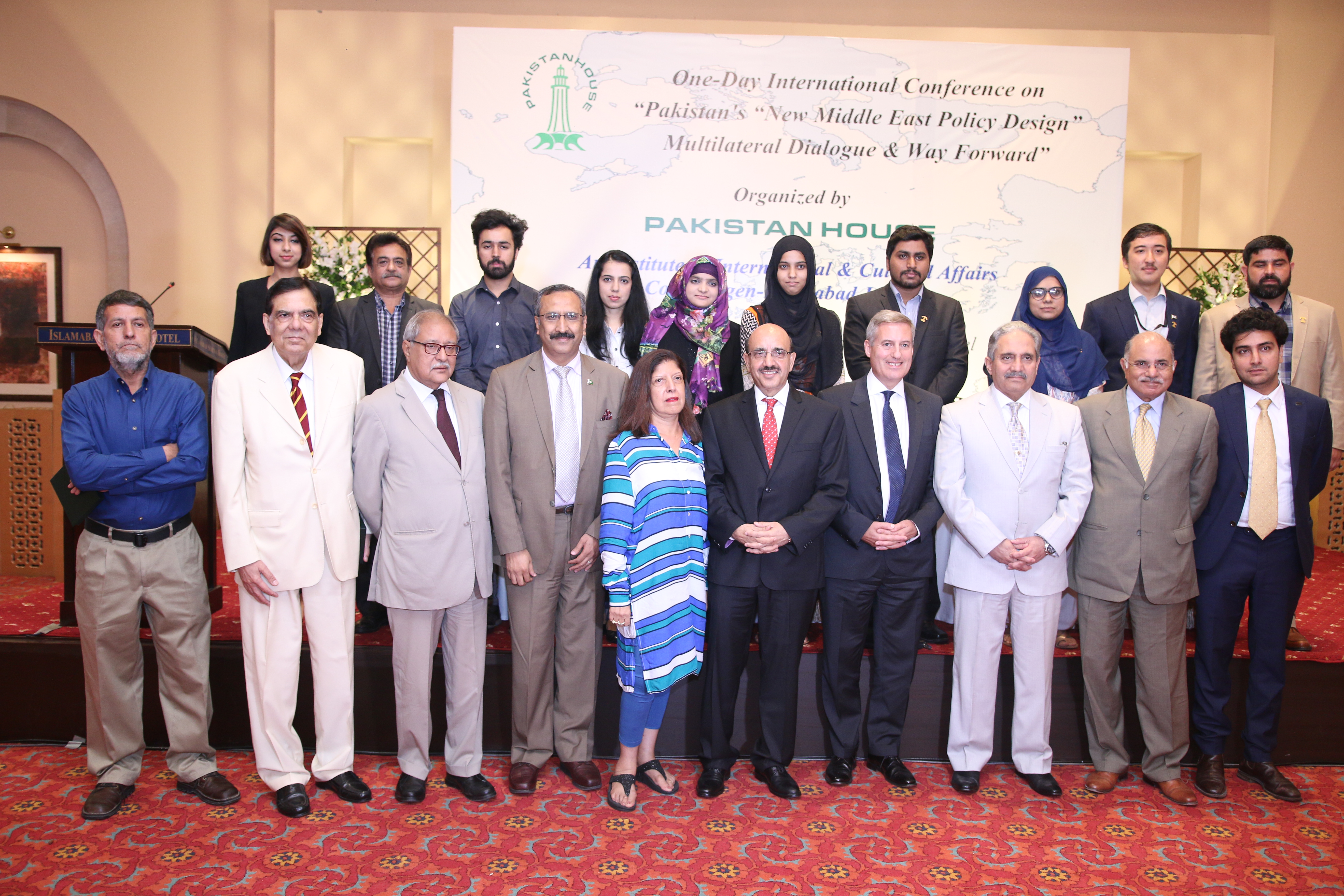 Pakistan House organised a one-day international seminar on 27 September 2017, in Islamabad on the subject of "Pakistan's New Middle East Policy Design: Multilateral Dialogue & Way Forward". The event witnessed the participation of eminent speakers, academics and policy practitioners from Pakistan and abroad.
Rana Athar Javed, Director General Pakistan House while highlighting the aims of the seminar, emphasized the importance of a stable Middle East for world peace in general and regional peace in particular. He mentioned the growing disturbance in the Middle East's balance of power and competing interests among key regional players, especially Arab Gulf States and Iran. He also touched light upon Pakistan's foreign policy agenda to promote a stable neighbourhood for its own national interests.
The speakers unanimously presented Pakistan's commitment to remain neutral in all the conflicts of Middle East that involves a deadly war in Syria, as well as a growing rift between Saudi Arabia and Iran. Sardar Masood Khan while addressing the audience opined that there is no prospect of multilateral dialogue whatsoever in the Middle East as the past few years witnessed complete failure in this regard. He deliberated upon the dynamics of asymmetric warfare in which protagonists cannot be differentiated from the antagonists. He was of the view that sectarian fault-lines in the Middle East were deliberately revived as the region was becoming unmanageable for foreign powers.
Commenting on the Gulf War and Arab Spring, Lt Gen (Retd) Khalid Rabbani emphasized that Pakistan cannot afford being sucked into any controversy emerging from the Middle East as it would have negative ramifications back home. He reiterated Pakistan's desire to maintain equally cordial relations between Arab Gulf states and Iran in the larger interests of regional peace and stability and remarked that neutrality will be the essence of future geostrategic policymaking. He also opined that besides Saudi Arabia and Oman which have already shown interest in China-Pakistan Economic Corridor (CPEC), Iran should also be accommodated within the realm of the Muslim world's geo-economic uprising. He concluded that, "Issues with Iran should be settled and it should be brought within the realm of the (larger) Muslim world".
Lieutenant General (Retired) Philip Jones, Former Chief of Staff of NATO HQ Supreme ACT stated that one of the persistent mistakes committed by policy strategists is of making assumptions based on a generalisation of the Middle East. In this regard, he highlighted the importance of developing a regional context in the formulation of a global strategy. He suggested that "Pakistan absolutely has the opportunity and the capability to offer the region a stabilizing sea-anchor in the face of the violent turbulence at play".
Ambassador (Retired) Arif Kamal said that disarray in the Middle East lends credence to the theorists in the domain of controlled chaos. In his view, labelling the Middle Eastern turmoil as an internal issue would be plain "nonsensical" as it was a culmination of hostile regional and extra-regional forces.
He reiterated "the criticality for Pakistan to remain neutral throughout the Middle Eastern imbroglio and Pakistan should not look at the Syrian conflict from the view of Arab versus Persian strife".
Ambassador Cautain said categorically that the EU remains firmly committed to build a Palestinian state in context of larger two-state solution for peaceful co-existence between the Palestinians and Israelis. He warned that unsuccessful Palestine-Israel peace process still has the potential to destabilise the Middle East even further. He reiterated "The European Union remains firmly committed to build a Palestinian state. The two-state solution is the only viable one". He concluded his address by highlighting three focus areas for the EU to promote stability and peace in the Middle East, namely: Conflict reduction, avoiding contagion (such as re-construction of areas recovered from Daesh in Iraq) and stimulating economic growth.
Ambassador (Retired) Ali Sarwar Naqvi suggested that there is no common consensus in the Middle East and that Pakistan will have to look for a range of policy options. In his view, there cannot be a particular foreign policy design for the Middle East to which Pakistan could hedge on to. In this regard, he mentioned great polarisation between the Middle Eastern rulers and their citizens. He opined that "Till the Middle Eastern people are able to humanise themselves, peace and stability will be very elusive".
DG Pakistan House Mr Rana Athar Javed encouraged policymakers and decision-makers to stop looking at Iran through the prism of sectarianism and look at GCC-Iran relations from the multilateral point of view. He opined that some of the key aims in Pakistan should be to avoid passing down a hate syndrome and rhetoric to the younger generation. Mr Javed urged the world powers that they should not engage regional states militarily, rather they should win their hearts and minds.
He was optimistic that Iran and Saudi Arabia can settle their disputes through negotiations. He advised Pakistan to stay neutral, forget past misunderstandings and play a constructive role in relations with Iran and the Middle East at large.
Ambassador (Retired) Javed Hafiz stated that on the issue of Syria, Pakistan's foreign policy is closer to that of Iran as Islamabad supports the Damascus government on the grounds that there is no justification for toppling of elected regimes through international intervention.
Mr Kamal Hyder opined that apart from states and people of the Middle East, its media was also polarised. He termed Yemen as the "Afghanistan of the Middle East" and lamented the lack of attention paid to the crisis unfolding there where thousands of people are at risk of disease and there is no end in sight to the war waged there. He suggested that media's role becomes even more important in such dangerous times and stated that the global media can work together to build bridges between countries.
Mr Irshad Ullah Khan suggested that Pakistan's position as the only nuclear-armed Muslim majority country in the region which can and should use its influence to settle hot issues which fan disharmony among countries in the neighbourhood. Mr Khan was confident that "Syria being a hard target will witness rise and Pakistan will stand by it".
Mr Kamal Alam stated that the Syrian security establishment is the most diverse in the Arab world, it had Sunni, Christian, Druze and Allawi. He said Syria was not an Iranian puppet or Russian. In his view, it is Iran which needs Syria more instead of vice versa. Furthermore, he claimed that Israel has a great role to play in destabilising Syria. He concluded his address by stating that the Syrian war is coming to its natural end and "the future of Syria belongs with the Russians and Assad… and the Kurds."
In view of the intellectual discourse propounded by the eminent Keynote Speakers and Chief Guest, the following broad issues as derived from the speakers' perspectives are noteworthy. Firstly, The Middle East is embroiled in perpetual turmoil but things can be put on track if there are sincere efforts in place especially by major world powers, especially within the region. Secondly, Pakistan can play a role in toning down, if not ending, the on-going Middle Eastern conflicts but neutrality should remain at its core. Thirdly, Global media should try to build bridges for peace to remove apprehensions of war instead of fanning the flames, as it has been mostly doing since 9/11. Fourthly, only a mutually inclusive approach spearheaded by political dialogue can resolve Middle Eastern issues in the long run. Finally, Pakistan should keep its core national interests in mind and should not be intimated by the concerns of any particular country regarding its Middle Eastern policy.
To read full report, please click on the following link: