36 countries to participate in Pakistan naval exercise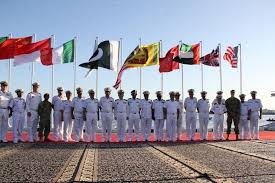 Some 36 countries with host Pakistan as the 37th will be taking part in Pakistan Navy's (PN) four-day joint multinational exercise Aman-2017, which is to start from today in the North Arabian Sea.
Sharing details about the exercise during a media briefing at the PN Fleet Headquarters here yesterday, Commander of Pakistan Fleet Vice-Admiral Arifullah Hussaini said the idea behind Aman exercises, which started in 2007 and are held every two years, was building confidence among navies of the participating countries, hold discussions, exchange ideas and raise awareness about naval affairs.
The countries taking part in the exercise hail from every corner of the world.
They include Australia (participating with a ship), Azerbaijan, Bahrain, Bangladesh, Brazil, China, Kazakhstan, Kuwait, Malaysia, Maldives, Morocco, Nigeria, North Sudan, Oman, Philippines, Poland, Qatar, Russia (bringing three ships), Denmark, Egypt, France, Indonesia, Iran, Italy, Japan (bringing an aircraft), Saudi Arabia, South Africa, South Korea, Sri Lanka, Tanzania, Turkey, Turkmenistan, United Arab Emirates, United Kingdom and United States of America.
"The people of these countries speak different languages and their work procedures are also not the same.
But they will work and plan together as a team during the exercise in the name of peace and unity," the vice-admiral said.
"Under the fold of the Coalition Maritime Campaign Plan in the North Arabian Sea,
Pakistan was the first country here to join Task Force-150, intended to eradicate terrorism and human, arms and drug trafficking in the maritime domain," he said, adding that PN ships were also ensuring free sea trade in the Gulf of Aden.
"Coming to participate in Aman-2017, over 35 countries have shown their confidence in Pakistan. We are also going out of way to co-operate with all.
With the US Navy we are part of a combined task force looking to spread peace and security at sea," he said.
From Japan their self-defence force would be joining in, he said and added that there might be issues between some countries but it was good to see that all were willing to work together.
"This region, the Indian Ocean and the Arabian Sea is very important as well as complex. It is from here that the world's oil is transported," Vice-Admiral Hussaini said.
He said Somali pirates had at one time caused a lot of damage in the area but the North Arabian Sea had now been cleared of piracy.
"Still, as a responsible country we need to keep our focus on the sea as there is still piracy in other areas.
There is a need for a united front to combat it as the sea is vast and trade through the sea is important for everyone," he said.
Coming to the China-Pakistan Economic Corridor (CPEC), he said it would change the circumstances of the entire region.
Activity at Gwadar port and in the North Arabian Sea will increase due to it. Many countries want to become part of CPEC.
"But for the CPEC it is not just the Pakistan Navy that is important. We need more ports,
more ships and a modern logistic base," he said.
"The PN's job is to provide security in the maritime sector and take care of civil defence but we now also need to focus on the CPEC."
Replying to a question about India's show of muscle by increasing their sea assets, the vice admiral said Aman-2017 was an exercise to promote inter-operability and not to prepare for war.
"Still, Pakistan's navy can protect its waters and harbors. We will ensure that our international interests are not jeopardized. We are not into escalating adventurism at sea. Pakistan is committed to international peace," he concluded.
A conference will be organised by the Bahria University and the Maritime Policy Research Center on the sidelines of Aman-2017.
Courtesy: The Peninsula Qatar's Daily Newspaper