Iran defies US sanctions to hold another missile test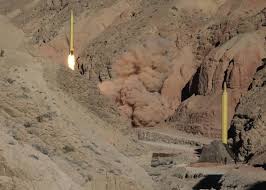 Iran is to deploy missiles for a Revolutionary Guards exercise Saturday in a show of defiance a day after the United States imposed sanctions over a ballistic missile test launch last weekend.
Relations between Washington and Tehran have deteriorated sharply since Donald Trump took office last month promising a tough line on what he sees as Iranian belligerency towards US interests and allies.
Hours after the new US sanctions were announced, Pentagon chief James Mattis charged that Iran was "the single biggest state sponsor of terrorism in the world."
The new sanctions are the first of Trump's presidency and target what US officials say is Iran's weapons procurement network in Lebanon and China.
They are a response to Iran's test launch of a medium-range ballistic missile last Sunday as well as its support for Yemeni rebels who attacked a Saudi frigate earlier this week, officials said.
Iran's medium-range missiles can reach 2,000 kilometres (1,250 miles), sufficient to strike Israel or US bases in the Gulf.
But the Revolutionary Guards said that the missiles deployed for Saturday's exercise would only be of very short range — up to 75 kilometres (47 miles).
They said the manoeuvres in the northeastern province of Semnan were aimed at demonstrating their "complete preparedness to deal with the threats" and "humiliating sanctions" from Washington.
"Different types of domestically produced radar and missile systems, command and control centres, and cyber warfare systems will be used in this exercise," the Guards' website said.
The new sanctions do not yet mean that Washington has abandoned commitments it made to lift measures aimed at Iran's nuclear programme, US officials said.
But Trump has made no secret of his contempt for that accord, which his predecessor Barack Obama approved in July 2015, and officials said Friday's measures would not be the last.
– Tit-for-tat –
Iran's vice president on Saturday urged calm heads to prevail.
"These are worn-out accusations against Iran and even the (accuser) himself is ashamed of saying it," state news agency IRNA quoted Eshagh Jahangiri as saying.
"If this nation is talked to respectfully and issues are resolved through negotiations and dialogue… it can be a win for everyone."
But General Amir Ali Hajizadeh, who is overseeing the drills, struck a more strident tone.
"If the enemy makes a mistake, our missiles will land on them," he was quoted as saying by the Guards' official site.
Iran is one of seven mainly Muslim countries targeted by the visa ban Trump ordered last week and its government has reacted angrily.
The order, which caused mayhem worldwide, was suspended by a federal judge on Friday but only after Tehran ordered tit-for-tat action against a US wrestling team due to take part in an international tournament in Iran later this month.
Tehran also vowed to impose "legal limitations" on Americans it says are involved in creating and supporting "extreme terrorist groups."
It said it would publish a list of names later.
– 'Never initiate war' –
US intelligence and Treasury officials are constantly scrutinising Iran's networks, looking for evidence of extremist funding and advanced weapons procurement.
But Mattis said Washington had no immediate plans to increase troop numbers in the Middle East.
A defence official said the US Navy had sent a destroyer to waters off Yemen in response to the attack on the Saudi frigate.
The USS Cole, which had been conducting operations in the Gulf, is now stationed in the Bab al-Mandab strait, one of the world's busiest shipping lanes, which links the Red Sea to the Indian Ocean.
Tehran says its missiles do not breach UN resolutions because they are for defence purposes only and are not designed to carry nuclear warheads.
Foreign Minister Mohammad Javad Zarif said on Friday that Iran would "never initiate a war", despite facing threats, "but we can only rely on our own means of defence."
The missile row is just one of a raft of issues souring relations between Tehran and the Trump White House.
Courtesy: Middle East Online