Modi Takes Shots at China, Says No Talks with Pakistan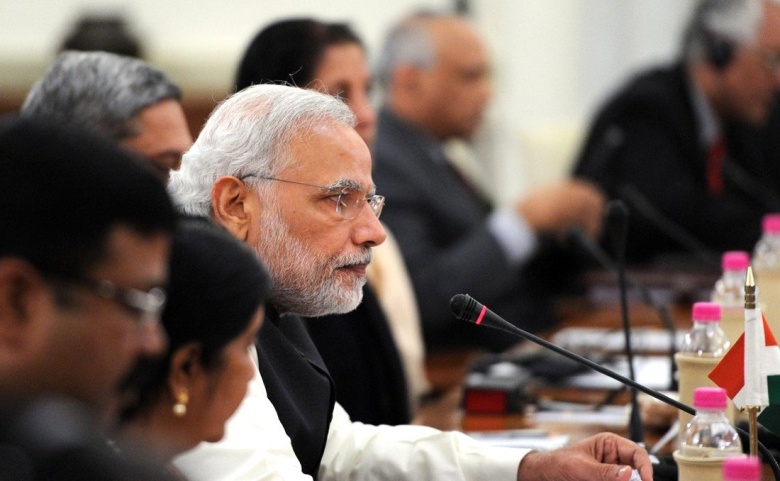 By Iain Marlow
Taking a swipe at both Pakistan and China, Indian Prime Minister Narendra Modi said countries need to stop supporting terrorism and start respecting territorial sovereignty.
India will not hold talks with Pakistan as long as New Delhi's nuclear-armed neighbor continues to support terrorism, Modi said in a foreign policy speech on Tuesday. In a likely reference to Pakistan, he said countries in the region that export terrorism stand "isolated and ignored."
"India alone cannot walk the path of peace, it also has to be Pakistan's journey to make," Modi said at a conference in New Delhi. "Pakistan must walk away from terror if it wants to walk toward dialogue with India."
The Indian prime minister also made a rare, veiled reference to Beijing's $46 billion investment in the China Pakistan Economic Corridor, or CPEC, which passes through parts of the disputed region of Kashmir that are administered by Pakistan but claimed by India. 
The remarks come after the failure of Modi's diplomatic attempts to soothe relations with both Pakistan and China over the last two-and-a-half years, and at a time when India-China relations are at a new low point. They also come ahead of several crucial state-level elections in India, where Modi's Bharatiya Janata party is campaigning in part on the administration's tough stance on Pakistan.
Ties between India and Pakistan worsened in September when Indian soldiers struck across the de facto border that divides the Pakistan- and Indian-administered parts of Kashmir. The military strike was in response to a terrorist attack that killed 19 Indian soldiers.
China relations
Modi said he and Chinese President Xi Jinping — who gave a speech on Tuesday to the World Economic Forum in Davos, Switzerland — have agreed to "tap" the vast business opportunities that exist between their two countries. 
However, he also referred to simmering strategic tensions between India and China that continue to worry Indian analysts and policy makers. Modi said "it is not unnatural for two large neighboring powers to have some differences and suggested both countries "need to show sensitivity and respect for each other's core concerns and interests."
In particular, Modi appeared to make a veiled reference to Beijing's investment in CPEC. The vast infrastructure corridor stretches from China's far-west Xinjiang province through the disputed region of Kashmir, before ending at the Pakistan port of Gwadar. India has partnered to build a strategic port on the Iranian coast with Tehran and Afghanistan.
"We appreciate the compelling logic of regional connectivity for peace, progress and prosperity," Modi said. "However, equally, connectivity in itself cannot override or undermine the sovereignty of other nations. Only by respecting the sovereignty of countries involved, can regional connectivity corridors fulfill their promise and avoid differences and discord."
India-China relations are at a low point over China's "One Belt, One Road" initiative, as well as Beijing's attempt to block New Delhi's bid to join the Nuclear Suppliers Group, said Shashank Joshi, a senior research fellow at the Royal United Services Institute in London.
Modi's remarks were part of a concerted Indian effort to portray China's investment in South Asia as "unilateral, heavy-handed, and overbearing," Joshi said, noting no other country thinks the project is impinging on their sovereignty "and many are enthusiastic for Chinese investment."
Courtesy: Bloomberg