Pakistan Navy takes over command of multi-national maritime security force from France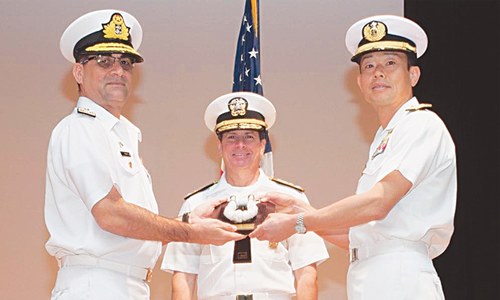 Pakistan Navy has been handed over the command of the multi-national naval maritime security and counter-terrorism coalition named Combined Task Force 150 (CTF-150) by the French Navy, read a statement issued by the navy's media wing.
Combined Task Force 150 is one of the three Task Forces within the ambit of Combined Maritime Forces (CMF), read the statement. "It is a multinational coalition for counter terrorism operations… with the mission to promote maritime security at sea, deter, deny and disrupt acts of terrorism while countering related illicit activities at sea."
"The area of operation of CTF-150 spans over two million square miles, covering the Red Sea, Gulf of Aden, Indian Ocean and the Gulf of Oman," the navy's media wing said.
"This is the 10th time that Pakistan has been given the command of the naval coalition. Command of the CTF-150 is rotated between participating nations on a four to six-month basis."
Rear Admiral Naveed Ahmed Rizvi took over the command of CTF-150 from Rear Admiral Olivier Lebas of French Navy, said the statement. Rizvi, while addressing the ceremony, assured that his team was fully prepared to shoulder this "prestigious responsibility".
The senior navy officer also lauded the outgoing French Navy team and their dedicated efforts to achieve objectives of CTF 150 during their tenure of command and reaffirmed his resolve to continue operations with the same zeal and zest.
Rizvi further highlighted that relations between Pakistan Navy and coalition navies continue to strengthen due to the focused commitment in support of collaborative maritime security to bring peace and stability to this region.
The number of participating countries in CMF has risen to 31 over the period of time.
Prior to the present command tenure, Pakistan Navy had the exclusive distinction of commanding CTF-150 for nine times and Multinational Combined Task Force 151 (Counter Piracy Task Force) eight times.
Vice Admiral Kevin M Donegan, Commander US Naval Force Central Command & Commander Combined Maritime Forces presided over the ceremony.
At the outset of the ceremony, Rear Admiral Olivier Lebas, the outgoing CCTF-150, presented resume of CTF 150's recent accomplishments.
Courtesy: DAWN