Raheel Sharif urges world to build narrative against terrorism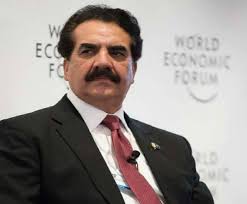 Pakistan's former army chief Gen (retd) Raheel Sharif said on Tuesday the world needs to build a narrative against terrorists, in his first public remarks since hanging up his spurs in November last year.
Speaking at a debate on "Terrorism in Digital Age" on the sidelines of World Economic Forum in the Swiss resort of Davos, Raheel Sharif said intelligence sharing was imperative for defeating the menace of terrorism.
He recalled that militant raid on Army Public School in December 2014 proved to be a turning point in country's drive against militancy when entire Pakistani nation stood up against terrorism.      
Sharif, who is regarded as the most famous army chief in country's history, also shed light on the issues related to human rights, saying strict action becomes crucial where soldiers are beheaded, a reference to brutal tactics employed by the militants against Pakistani soldiers. He said Pakistan's fight against terrorism has resulted in significant decrease in militant attacks in the country. 
Highlighting difficulties that Pakistan continues to face in its fight against militants, he said in the face of military actions, terrorist groups move to Afghanistan and vice versa, adding that complex border region between the two countries is one of hurdles in defeating the Taliban.  
The former army chief said the future of Pakistan and Afghanistan was linked and Islamabad desires peace in the neighboring country.
Courtesy: The News International