Russia Open to Pragmatic Relationship With U.S. Despite Differences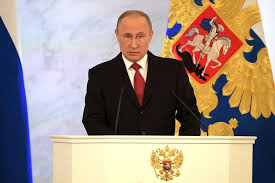 Differences between Russia and the U.S. over Iran and other international issues shouldn't harm efforts to improve relations between the two countries, the Kremlin said Monday. Moscow and Washington have different stances on global issues but this should prevent establishing mutually beneficial relations, the Kremlin spokesman said Monday. Kremlin spokesman Dmitry Peskov said stances of Russia and the United States are diametrically different on a range of issues, but this should not be an obstacle for the establishment of mutually beneficial relations.
"It is no secret that positions of Moscow and Washington are diametrically different on the whole range of international and regional policies. This cannot and should not become an obstacle to the establishment of normal communications and pragmatic, mutually beneficial relations between Russia and the United States," Peskov told reporters when asked whether Moscow's and Washington's stances on Iran could be an impediment to establishment of ties. Meanwhile, Russian Deputy Foreign Minister Sergei Ryabkov said Moscow regrets the latest sanctions the United States imposed on Iran after its latest missile test.
Courtesy: The Wall Street Journal