Sikkim standoff: China might launch military offensive against Indian troops in Doklam within 2 weeks, says Chinese expert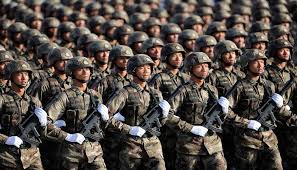 Raising the rhetoric, a Chinese expert has claimed that China might launch a military offensive against Indian troops in Doklam within two weeks, and that New Delhi will be told about the operation in advance.The expert at a Chinese think tank said the Indian soldiers deployed at Doklam, in the Sikkim sector, will either be captured or expelled from the area. Hu Zhiyong, research fellow at the Institute of International Relations of the Shanghai Academy of Social Sciences, said Beijing's patience was wearing thin as India has not withdrawn troops from Doklam despite repeatedly being told to by the Chinese government and think tanks.
"If India refuses to withdraw, China may conduct a small-scale military operation within two weeks," he said."The series of remarks from the Chinese side within a 24-hour period sends a signal to India that there is no way China will tolerate the Indian troops' incursion into Chinese territory for too long," Hu was quoted as saying by state-run Global Times. China has stepped up its anti-India tirade over Doklam with its state media warning of baneful consequences.
India wants to resolve the dispute over the standoff between their armies in the Sikkim sector diplomatically, but China says it won't talk unless India withdraws troops from Doklam. Hu said the military operation would aim to seize Indian personnel "illegally" lingering in Chinese territory or expel them. "The Chinese side will inform the Indian Foreign Ministry before its operation," Hu said. Doklam is a disputed region between China and Bhutan. The dispute arose after Indian troops stopped the Chinese army from building a road in the region in mid-June.
The expert's view comes as the Chinese Defence Ministry said on Thursday that India should not test its patience over Doklam and that "restraint has a bottom line". The Ministry told India to "give up the illusion of its delaying tactic, as no country should underestimate the Chinese forces' confidence and capability". While China continues to raise the ante over the Doklam standoff, India says it will engage with Beijing diplomatically to resolve the border standoff and that war is not a solution.
"Our stand is that we maintain restraint in language and keep patience and engage in diplomacy. No solution will be gained out of war because even after war, talks are required. A solution cannot be derived out of war," India's External Affairs Minister Sushma Swaraj said in Parliament on Thursday. "Times are changing and it is economic power and not strategic power that decides strength of a nation…If there is a dialogue there will be a solution," she said.
Courtesy: Financial Express