The Unusual Result of Israel's Election 2021
Israel's fourth election in the past two years held on 23rd March is best to be described as an impasse and paving no clear way towards attaining majority. As votes have been counted, the political gurus are struggling to find a formula that the current Prime Minister Benjamin Netanyahu, locally known as Bibi, might use to magically accumulate 61 seats that are required to form a government.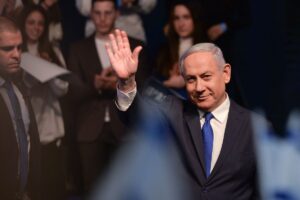 The elections held in the past two years were all about him, as a means of securing power and for the sake of his political survival in the country. The political pundits of Israel have divided the parties contesting elections for 120 seats of Knesset into two blocs: pro-Netanyahu and anti-Netanyahu. Both blocs lack clear victory to form a government and notably, these blocs are barely unified internally. This is the reason why the media houses and other analysts in the country are envisaging fifth elections in-country in the coming summer. Understanding Israel's politics has always been an arduous task for the outsiders unaware of local political culture.
For years, factors such as extremist ideology, religiously motivated groups, and especially demographics have been impacting Israel's general election results. Irrespective of the final vote count, which will not mystically alter the election results, horse-trading and dealing and wheeling are going to being immediate. It is anticipated that after the elections the promises made during the campaign are likely to be shattered and rivals might end up forming coalitions to attain a certain degree of power in government. What makes this election different from those held in the past two years is that now the right-wing and the far-right are divided with former Netanyahu allies.
Former allies are seen to be parting ways and making new political alliances. The pundits have labeled Mansour Abbas, who leads Islamist United Arab List (UAL) as a kingmaker, whose 4 seats can help Netanyahu secure the required 61 seats in the parliament. Yamina Party's Neftali Bennett is seen to be another kingmaker, who has been successful in securing seven seats. In last year's March elections, Netanyahu avoided far-right politicians, but this year's situation is different as he sees himself in a stronger position of negotiating with them. Although Netanyahu's party lost some ground but unexpectedly managed to emerge as the largest party by securing 30 seats. The real test for Netanyahu would be reconciliation with the far-right religious factions and perhaps forming an alliance with the Islamist UAL.
Bezalel Smotrich, a prominent religious Zionist leader remarked that he would not allow the formation of a government with the support of the Islamist UAL. Mansour Abbas has not yet stated his stance on supporting the far right for forming the government, but a prospect of such an alliance is expected however in exchange for improved services for the Arab community settled in Israel.
A very crucial matter that was absent from the election campaign was the prospects of reviving the peace talks with Palestine. Netanyahu used the successful vaccination scheme of COVID-19 as an accomplishment to secure votes but this was shadowed by what Israeli people believe to be a sluggish response and mismanagement of the pandemic, which also proved detrimental to the economy. Moreover, Netanyahu is under trial for corruption charges and accepting bribes for his political survival. Netanyahu might be able to gather parties to form a government through a coalition but it will be fragile and unreliable thus likely to break up soon.
On the other hand, if by some miracle the anti-Netanyahu camp is able to form a government with the support of like-minded factions, it will be the beginning of a new era and departure of a person who since the 1990s has been dominating Israel.
Suez Canal: A Giant Ship blocking the Canal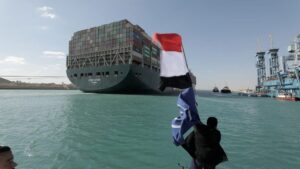 One of the world's strategic shipping canals, the Suez Canal, was blocked by a giant Japanese-owned Ever Given cargo ship, 1,400-foot long weighing 200,000-tons, for nearly a week.
The ship was operated by Taiwanese company Evergreen Marine and obstructed at an angle in Egypt's Suez Canal on March 23, 2021. The blockade initiated a major cargo ships jam causing billions of dollars of trade to be delayed in efforts to refloat the vessel. As per Leth Agencies, 367 vessels were trapped along the canal including dozens of container ships, bulk carriers, oil tankers, and liquefied natural gas (LNG) or liquefied petroleum gas (LPG) vessels.
The blockade invited global attention as authorities and workers were carrying out a rescue mission to refloat the vessel to unblock the waterway. As per NBC News," Dredgers worked over the weekend to dislodge the stranded vessel, shifting some 27,000 metric tons of sand to a depth of 60 feet. A total of 14 tugboats were conducting pulling maneuvers from three directions to dislodge the ship." Egyptian President Abdel Fattah el-Sisi commented, "Today, Egyptians have been successful in putting to an end the crisis of the stranded ship in the Suez Canal, despite the enormous complexity surrounding the process." The blockage caused the oil prices to augment and disturbed the global supply chain which also put companies at risk of facing costly delays, especially with COVID-19 restrictions.
The shipping resumed through Suez Canal on Monday as the skyscraper ship refloated with help of tug boats that moved it slowly in the center of the canal and the ship started moving at the speed of 1.5 knots (2.8kmph). The ship was repositioned and inspected for seaworthiness. There is a sense of relief among the authorities and workers but another challenge looking straight in the eyes is the congestion of ships that the blockade has caused. Suez Canal authorities have decided that stranded vessels would be allowed to pass through the Canal on a first-come-first-served basis and there might be some exceptions to particular ships depending on what kind of goods are on board. There had been no reports regarding pollution or cargo damage, and initial investigations had ruled out any mechanical or engine failure as a cause of the grounding last week.
Other than the economic and financial jolt, this situation raises another concern; security. It was highly possible that ships could have been exploded or damaged by radical groups. This could have caused another challenge globally. Authorities must be prepared in the future for situations that are not only on the contours of economy and finance.
Pakistan Bangladesh Ties
The Pakistan-Bangladesh relationship is weighed down by history. But if bilateral ties are to progress, both Islamabad and Dhaka must look forward instead of living in the painful past. Improvement in bilateral relations can be reactivated which in turn can help create a more integrated and peaceful South Asia.
Government to promote trade relations with Bangladesh, said that "Bangladesh is one of the top destinations for exports of Pakistan. Trade between Pakistan and Bangladesh has always been in favor of Pakistan". While giving a breakdown of exports and imports of the past five years, the minister told the parliamentarians that both countries had total trade of $700.39 million in 2019-20, wherein Pakistani exports amounted to $654.79 million and import from Bangladesh stood at $45.60million. "Even though trade remained in surplus this year too, the overall trade including both exports and imports decreased in the wake of Covid-19, the economic fallouts of which remained palpable throughout the world since February 2020," the ministry stated.
Both the countries had a total trade of $806.75m in 2018-19, $805.00m in 2017-18, $678.43m in 2016-17, $763.08m in 2015-16 and $769.53m in 2014-15. The government of Pakistan has included Bangladesh in List 'A' countries from October 2019 which has facilitated the travel of Bangladeshi businessmen to Pakistan. Pakistan's major exports to Bangladesh include woven cotton fabrics, cotton yarn, raw sugar, raw cotton, tanned leather, machinery, and its parts, and synthetic fabrics including silk and woolen. Islamabad has been actively pursuing to build better ties with all neighboring countries, particularly Bangladesh. The removal of visa restrictions for Bangladeshi citizens and steps to improve trade ties signify Pakistan's efforts in this regard. Pakistan's President Dr. Arif Alvi recently expressed Islamabad's desire to boost bilateral ties with Bangladesh at all levels. Pakistan's High Commissioner to Bangladesh Imran Siddiqui also stated that the country is eager to boost economic ties with Bangladesh with the resumption of direct flights and establishing maritime connectivity.
Pakistan's main items of imports from Bangladesh are raw jute, tea, and mate, yarn & thread of synthetic fibers, and tobacco. A congratulatory letter from Bangladeshi Prime Minister Sheikh Hasina on the occasion of Pakistan's National Day is another sign of improvement in relations between the two countries. Though the relations between the two countries have remained tense for the last many years, now, close people-to-people contact will heal the wounds of the past.